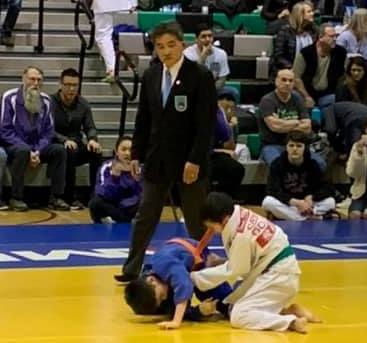 United States Judo Federation
Contest Rules
Referee Education
Module 1: Overview
Module 1 provides a general  introduction to the contest rules including; judo contest basics, bowing procedures, gripping, throw scoring, mat work scoring, common referee hand signals and calls, penalty overview and how to read the scoreboard.  It is a great base knowledge module for all interested in knowing more about Judo contest rules, including parents and boosters who are new to Judo.  The module incorporates three sections: Procedures, Scoring and Penalties.
Learning Outcomes
At the conclusion of Module 1;
You will be able to assemble elements of a judo contest, contest bowing, kumi kata (gripping), judo -gi, referee hand signals and calls and scoreboard basics.
You will be able to differentiate Tachiwaza Scoring – Ippon and Wazari, Ne-waza Scoring – Osaekomi, Shime-waza and Kansetsu-waza.
You will examine and distinguish the difference between Shido (Slight Penalty) and Hansoku Make (Grave Penalty).
Module 1: Procedures
Introduction to a Judo Contest

Contest Bowing Procedures

Kumi Kata (Gripping)

Judo Gi

Referee Hand Signals and Calls

Scoreboard Basics
Module 1: Scoring
Tachiwaza Scoring

Ne-waza Scoring

Osaekomi

Shime-waza 

Kansetsu-waza 
Module 1: Penalties
Shido (Slight Penalty)

Hansoku Make (Grave Penalty) Overview