Nage-no-kata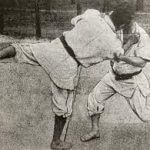 Nage-no-Kata "forms of throwing" is one of the two randori-no-kata, free practice forms of Kodokan Judo. It is intended as an illustration of the various concepts of nage-waza (throwing techniques) that exist in judo, and is used both as a training method and as a demonstration of understanding. The nage-no-kata was developed by Jigoro Kano as a method of illustrating principles of throwing to allow students to more effectively apply them in randori.  The kata is composed of 3 techniques each from the five classifications of throw in judo:
-Te-waza

(hand techniques)

– Koshi-waza (hip techniques)
– Ashi-waza (foot techniques)
– Ma-sutemi-waza (rear sacrifice techniques)
– Yoko-sutemi-waza (side sacrifice techniques)
Basis of throwing techniques is acquired by practice of Kuzushi, Tsukuri, Kake and how to receive the technique on each technique.   Each of these 15 techniques are performed twice in the specified order, both right and left handed. The kata is generally performed in a strictly formalized manner with clearly defined Reigi sahō (rules of etiquette).
Learning Outcomes
At the conclusion of the course, you will be able to;